Blog — cross stitch
Posted by Julie or Chris Jackson on
So, you may remember my EL project from a few years ago. I mentioned it on social media and it sounds like a lot of you are interested, so I'll share what I remember--mostly I remember that it was hard to find things and put it together! There are a few resources out there that explain what we're working with here. Basically, you'll need to find some kind of grid to stitch on (or some people use this on their clothing at raves and whatnot). Then, you'll need a sound activated EL kit (I'll list some resources below). First up,...
Posted by Carson on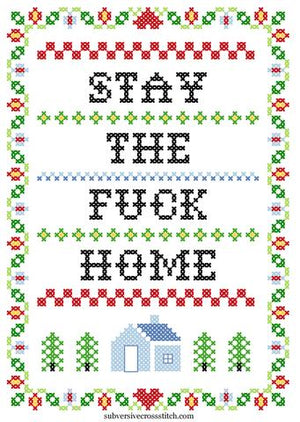 If you're familiar with Subversive Cross Stitch at all you know that we love to create and share free patterns whenever we can. We're big believers in encouraging everyone to slow down and make something and if our free patterns can be a gateway drug to more stitching in your life you know we're here for it. You can find every free cross stitch pattern we have ever created right here. That's over 25 free patterns! Here's some of what you'll find there: Sure the pandemic is starting to slow down and we're all coming out of our houses more...
Posted by Carson on

Surely you're watching the new Netflix miniseries about Halston, right? I've been jotting down little bon mots from the show because they inspire new patterns (I wonder how Halston would feel about being immortalized in cross stitch?). And since Halston would definitely want you to have choices I made this pattern in both Spring or Fall 1970s palettes for you to choose from. Both available in our PDF shop now! ❤️ Spring palette--very carefree in Paree! Fall palette--for shopping trips in NYC. There's sure to be more quotes soon... stay tuned!
Posted by on
Pardon my bad Photoshopping, but MY OH MY I couldn't believe that the best of the Chrisses (besides my Chris) talked to W Magazine about his love for cross stitch: "I remember doing cross stitch and for whatever reason, anything for me as a kid, I had a lot of trouble kind of focusing on one task and sitting still. I was pretty active. But anything really detailed where I had to sort of physically and mentally be involved and anything could hold my attention was a big plus for my parents, in particular. For some reason, cross stitch was...
Posted by on
We have so many options for fall and Halloween. The most popular, taking the internet by storm, is this one - based on the hilarious McSweeney's article. But there's more! Available as kits and PDFs. Check the NEW page for all the latest. And in PDFs: Quite a collection! Get to it, time's a wastin'!
---