Blog — Category_Blog
Posted by Carson on
We celebrate pride all year round here but since it's Pride month we thought we'd take a minute to call out some of our favorites with a little round up. Legalize it! What's better than a wedding? A wedding sampler, of course! This pattern comes with a full alphabet so you can personalize it (in case you don't know Jennifer and Karen). The perfect holiday pattern.   A queer spin on an old favorite. Makes a great housewarming gift. One of the patterns I designed for the DMC cuffs! This one uses sparkly silver thread for the letters. Stay proud. We...
Posted by Julie or Chris Jackson on
So, you may remember my EL project from a few years ago. I mentioned it on social media and it sounds like a lot of you are interested, so I'll share what I remember--mostly I remember that it was hard to find things and put it together! There are a few resources out there that explain what we're working with here. Basically, you'll need to find some kind of grid to stitch on (or some people use this on their clothing at raves and whatnot). Then, you'll need a sound activated EL kit (I'll list some resources below). First up,...
Posted by Carson on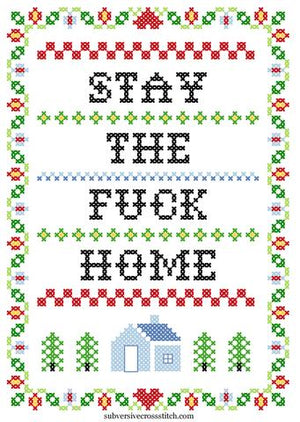 If you're familiar with Subversive Cross Stitch at all you know that we love to create and share free patterns whenever we can. We're big believers in encouraging everyone to slow down and make something and if our free patterns can be a gateway drug to more stitching in your life you know we're here for it. You can find every free cross stitch pattern we have ever created right here. That's over 25 free patterns! Here's some of what you'll find there: Sure the pandemic is starting to slow down and we're all coming out of our houses more...
Posted by Carson on

Surely you're watching the new Netflix miniseries about Halston, right? I've been jotting down little bon mots from the show because they inspire new patterns (I wonder how Halston would feel about being immortalized in cross stitch?). And since Halston would definitely want you to have choices I made this pattern in both Spring or Fall 1970s palettes for you to choose from. Both available in our PDF shop now! ❤️ Spring palette--very carefree in Paree! Fall palette--for shopping trips in NYC. There's sure to be more quotes soon... stay tuned!
Posted by on
Oh man, I am such a fan of Jenny Lawson aka The Bloggess. Her blog is just the most wonderful, and her books are even better! I got to read an advance copy of her new book, Broken (in the best possible way), and I absolutely relished it. I laughed so hard my face hurt. Which is saying a lot, not many books really captivate me, but this one is a pretty dang perfect match. If you like Subversive Cross Stitch humor, you'll definitely like Jenny's writing! Not only did Jenny author a great book, she also stitched FIVE patterns...
---