Blog — craft store
Posted by Christina Loff on
Rosalie and Douglas Gale are the inventors of Shower Art - clever waterproof art you can hang in your shower with a suction cup. They've been making Shower Art since 2008 and have become the very best Shower Art makers in the whole Pacific NW, probably even the world. This dynamic duo owns two retail stores in Seattle: Ugly Baby in the historic Pike Place Market and Monster in the Ballard neighborhood. Both stores sell the work of independent artists – Ugly Baby has a special focus on D.I.Y. craft kits  & enamel pins (aside from the full Ugly Baby line) and Monster features the work of...
Posted by Christina Loff on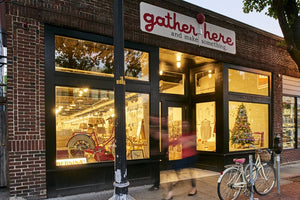 Part sewing studio, part fabric and yarn shop, gather here, located in Cambridge, Massachusetts is a one-of-a-kind stitch lounge, created to cater to all fiber craft goals. We're big fans of this magical place and asked owner and founder Virginia B. Johnson to tell us more behind creating one of the best craft stores in the country. Tell us about the origins of gather here--when did you open and why?  gather here opened on February 19, 2011. In 2010 I wrote a business plan for a "stitch lounge" inspired by the places I had visited over the years. Whenever I went...