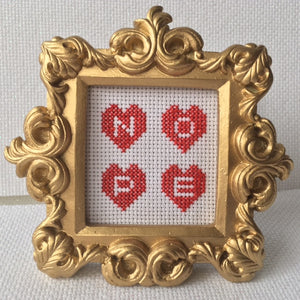 Small Ornate Frame Kit: NOPE Hearts
Sometimes you gotta break the news with candy hearts. This little baroque frame has a matte-gold finish and measures 4" x 3 1/2". The inside area is just under 2" square. 
Kit includes the frame, 18-count material, red floss, pattern and a needle -- everything you need to give or make a gift that says it like it is. Or put it on your desk for when people keep asking you pesky questions.