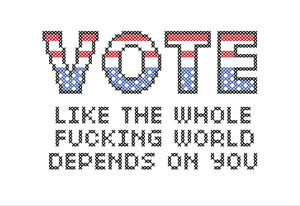 PDF: VOTE (version 4)
Protesting is powerful and change happens when we all VOTE! Vote EVERY election--even the little ones--because change starts locally before it grows globally.
By popular demand - another version with the F word added for emphasis.
This pattern will end up being 5.36 x 3.43" on 14-count Aida. It will fit our signature gold frame.
We've got supplies if you need 'em! Fabric, floss set and needles, shipped right to your door.