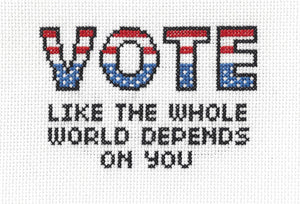 PDF: VOTE (version 1)
Protesting is powerful and change happens when we all VOTE! Vote EVERY election--even the little ones--because change starts locally before it grows globally.
This pattern will end up being 5.36 x 3.43" on 14-count Aida. It will fit our signature gold frame and is available as a kit + frame combo! It's also available in kit form, with everything you need to DIY. 
We've got supplies if you need 'em! Fabric, floss set and needles, shipped right to your door. 
UPDATE: It's been brought to my attention that Paypal says they'll charge you ONE CENT to checkout. But if you continue through the screens, that doesn't actually happen. Sorry about this weird bug, I hope you can work around it.
Share your progress with us on Instagram using the hashtags #subversivecrossstitch and #scswip 
Thanks for visiting us! Take care of your sweet self. xoxo