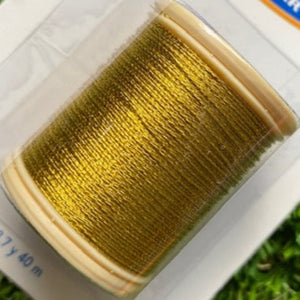 DMC Gold Metallic Floss
You've got to have your own spool of gold metallic floss to work some magic now and then. This is a three-ply divisible thread that packs 43.7 yards per spool. 
This is the darker, richer gold (284Z) of DMC metallic floss that I love to use for gold accents. I find it much easier to work with than regular metallic floss, especially when combined with thread lube (wax). Remember when stitching with metallics to work with a short strand to reduce wear of the thread. Iron it flat when you're done stitching for the best effect!